From GM's Desk
Dear Partners,
We are pleased to introduce to you the first edition of WeP Channel Connect, an initiative to keep us connected, informed and growth-tuned. You will get to know about members of the WeP eco­system, our educational and support initiati­ves, insights and latest news. At WeP, we are committed extend to all our capabilities to develop our partners' full potential and assist them in acing their growth journey. We wish all of you increased productivity and profitability, and do make sure to Stay Safe!
Your sincerely,
Nisar A Shah
General Manager, WeP Solutions Ltd., Bangalore
DEMO CENTRE @ LAVELLE ROAD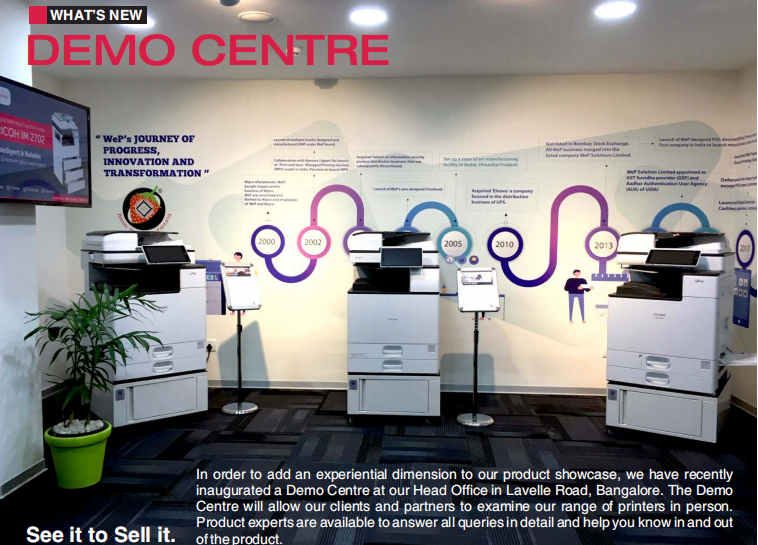 KNOW OUR PARTNERS
AACTIVE DIGITAL SOLUTIONS
Established: 2017
Total Years of experience as Channel Partner: 3 Yrs, 15 years in Business
Head Office: Hosur
Branches: Krishangiri
Serviceable Territory: Krishnagiry Dist., Bommasandra, Jigini, Malur Industrial areas & Electronic city
Portfolio of Products: A3, A4 & ID card printers
Customer Vertical: SMB, Educational, FMGC, Large Enterprise, Global major customers & Govt
Strengths or USP: Technical & support (Ricoh Products)
Team size: 7
Awards and Recognition: Appreciation Mails from many corporate customers on high quality support
CHARANJEET & ASSOCIATES
Established: 2013
Total Years of experience as Channel Partner: 7 years
Head Office: Chandigarh
Branches: Makhanmajra, Sec 22 - Chandigarh
Serviceable Territory: Mohali, Chandigarh, Panchkula, Ambala
Portfolio of Products: Digital MFPs, LED TV, Washing Machine, Refrigerator, Water Purifier, Inverters,
Solar Panels and Auto Batteries
Customer Vertical: Govt. & All Commercial
Strengths or USP: Customer Retention, Well Managed Staff Operations, Satisfied Customer Base
Team size: 30
Notable Customers: Chandigarh University, Terminal Blasting Research Laboratory, Local Audit Dept., Haryana Road And Bridge Corpration, Haryana State Industrial Dev Corp., Deputy Commissioner of Police - Haryana
Awards and Recognition: Highest Sales Recognition From Fit Bit and Mi
SIDDHI VINAYAK ENTERPRISES
Established: 2010
Total Years of experience as Channel Partner: 10 years
Head Office: Gorakhpur
Serviceable Territory: Purvanchal Region
Portfolio of Products: MFP, Consumables, After Sales
Customer Vertical: Government, Large Enterprise, Professionals and Educational Institutes
Strengths or USP: Expert in MFP Servicing
Team size: 5
Notable Customers: Norther Eastern Railway, Rush Agro Farms, World Health Organisation, Hindustan media Venture etc.
SILVERLINER INFOTECH
Established: 2019
Total Years of experience as Channel Partner: 3 years
Head Office: Kolkata
Serviceable Territory: North 24, South 24, Kolkata, Howrah, Hooghly, Durgapur
Portfolio of Products: A3, A4, Production Printer
Customer Vertical: Government, SMB, Enterprise
Strengths or USP: Service
Team size: 10
Customer Base: 280 existing customers
PARTNER ENGAGEMENT
In order to deepen our channel partners' domain expertise and product specific knowledge, we are conducting monthly webinars. The webinars are interactive sessions upto an hour long with an expert-led deep dive into a chosen topic, followed by a QA session. Post the webinar, we conduct email quizzes to ensure efficacy of the session. Here is a round-up of recent sessions.
FUNDAMENTALS OF MULTIFUNCTIONAL PRINTERS AND RICOH MODELS
Held on: 7.2.20
Covered: MPF Industry specific terminologies, meanings and implications
Product Focus: C2000 & C2500
WEBINAR ON RICOH CORONA C1.5 SERIES
Held on: 13.3.20
Covered: Overview of products , features, comparisons, USPs
Product Focus: RICOH Corona C1.5 series
WEBINAR ON INTELLIGENT, RELIABLE AND REALISTICALLY AFFORDABLE RICOH PRINTER
Held on: 17.4. 20
Covered: Deep dive into product dimensions
Product Focus: RICOH IM2702 (2019), M2700 & M2701
RICOH PRINTERS WITH SOPHISTICATED FEATURES AT AN AFFORDABLE PRICE
Held on: 20.4.20
Covered: Deep dive into product features and price
Product Focus: MP2014 series
RICOH ALWAYS CURRENT TECHNOLOGY
Held on: 26.6.20
Covered: Deep dive into product dimensions
Product Focus: Deep dive into Always Current Technology, a specialized feature launched in 2019
THE CORONA WARRIORS:
CAPTAIN AMITABH SINGH, THE MAN WHO PILOTED AIR-INDIA'S MISSION WUHAN
As the Air India flight descended into the Chinese city of Wuhan on January 31, Captain Amitabh Singh could not believe the sight below him—a brilliantly lit modern metropolis, but without any signs of life. It was as if he was flying into an apocalypse. "Total silence with no radio chatter… an airport blanketed in darkness with all aircrafts locked up. Not a single human or vehicle on the roads...", he recalls. For the former director operations of Air India and one of the most experienced pilots in the national carrier, it was an experience as eerie as they come.
When the government decided to evacuate all Indians stranded in the COVID-19 epicentre of Wuhan by then under lockdown it fell upon Singh to lead the two rescue planes that would fly into the Chinese city and bring people back. Singh and the 68 members of the two rescue teams were informed just a day before the first flight took off. The second mission was on February 1. Singh was one of the two Air India officers who were part of both missions. As many as 324 passengers were flown back in the first mission and 323 Indians and 7 Maldivian nationals were evacuated in the second flight.
"We were to fly in, evacuate and fly out, keeping everyone safe. But it was not as easy as it sounds."
Pankaj Pandey
Siddhi Vinayak Enterprises
19/140 Jadeed Bazar PWD Colony, Nadesar Varanasi.-221002 U.P.
Mob:- 9936197338 ,8953667085